This picture pretty much says it all: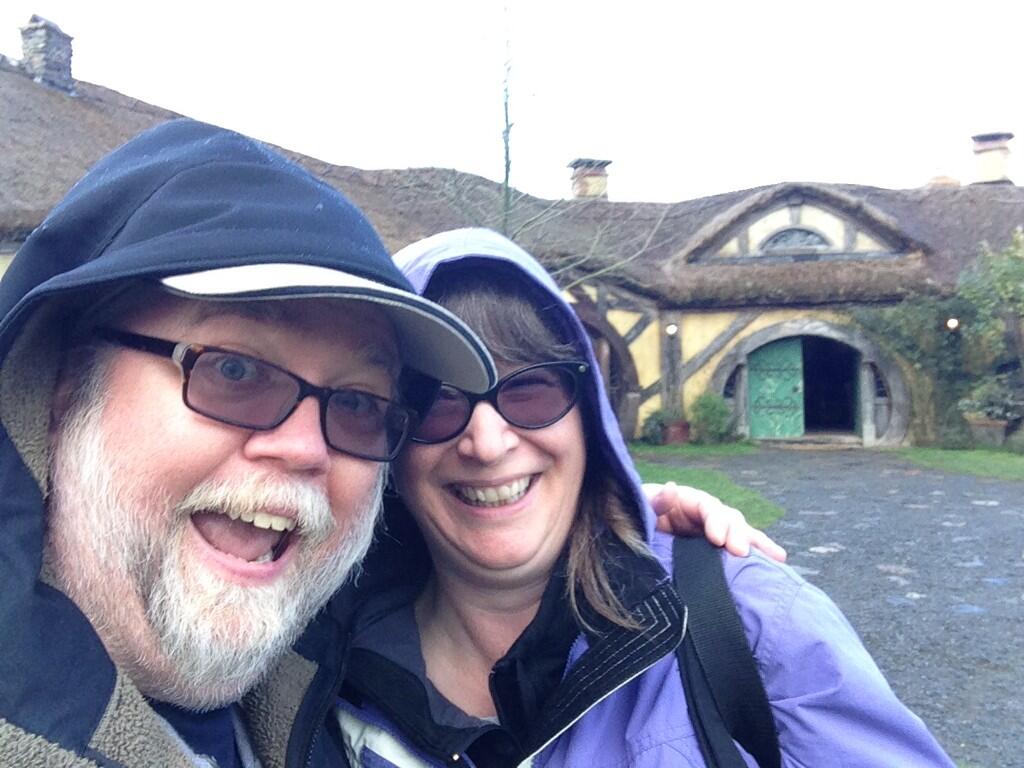 Lisa Costello and me all asquee in front of the Green Dragon in Hobbiton. On rebuilding the old Lord of the Rings sets for shooting The Hobbit, New Line Cinema had them created in durable materials, and they remain behind fully dressed for the tours. It was a fascinating walk through the movie.

Also, I shot this panorama of Bywater from the old stone bridge. The mill is on the left, the Green Dragon is on the right, the Party Tree is in the distance, center left, and that hill to the right of and behind the mill is Bag End.




Lots, lots more photos to come, bandwidth permitting.

Today we visit the glow worm caves, then drive to Auckland. There's an open dinner in Auckland at 6 pm tonight at Galbraith's. A day of sightseeing in Auckland tomorrow, then we fly home tomorrow evening.

In other news, I continue rather severely ill. It was chilly and damp at Hobbiton. By the time we got to Hamilton, I was cycling through fever and chills, as well as a rather nasty wet chest infection. My GI continues painfully irregular, and my feet are pretty torn up from visiting non-wheelchair accessible sites. I think it's time to go home and rest.


---


Photos © 2013, Joseph E. Lake, Jr.




This

work

by Joseph E. Lake, Jr. is licensed under a Creative Commons Attribution-Noncommercial-Share Alike 3.0 United States License.